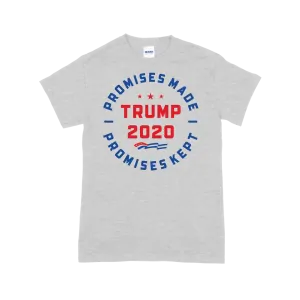 Quick View
Trump 2020 Shirt. Against all odds rose a Champion from the people to be elected by the people of the land. Who else calls a spade a spade and does what they say they are going to? We deserve nothing less.
---
Thanks for taking a look and taking into consideration buying our American shirts. Our sizes are uni-sex so that they are good for men and for women.
If you don't see what your looking for, contact us and we can talk about getting it made for you.
Some of our shirts are made to order, some are in stock. Please give 5 business days to have shirts that need to be made shipped out.
---
Our shirts
All shirts printed, packaged and shipped right outside the good ole' St.Louis, MO in the grand ole' USA.
We take pride in our products, and provide the best quality possible. All of our shirts are screen printed with red, white and blue sweat; by red, white and blue hands.
We typically favor a 50/50 Polyester and Cotton blend,unisex fit, so our shirts are good for men and women. Some ink and shirt colors require different material blends.
The categories of our American shirts range from Funny to Construction, Patriotic and Christian.
Our top selling products are Patriotic Shirts and Trump Shirts
---
Why American Shirts?
We love the idea of "freedom of mind", to be able to think and speak freely, without worry of consequence or punishment.
Really, think about it; back in the dark ages, you could literally get killed and/or tortured for speaking your mind.
If you disagreed with the local Bishop, off with your head. If you disagreed with your local overseer, off with your head. Hell, if you disagreed with the earth being flat, off with your head.
Luckily for us (some of us), civilizations have morally and spiritually matured to a point that speaking ones mind is now considered a God given right. A right that should be exercised freely without constraint.
With that being understood, we believe that our t shirts act as a "loud speaker" for our beliefs without having to be obnoxious and actually have a loud speaker.
Whatever that message is, whether we agree or disagree, it is your God given right to speak your mind.
And as long as we carry God in our hearts, righteousness will always prevail.
---